2011 Summer School in Computational Sensory-Motor Neuroscience
(CoSMo 2011)

Selection process
The number of participants of CoSMo 2011 is strictly limited to 40 to ensure an excellent instructor to participant ratio. As the organizers, we are confronted with the difficult task of selecting the participants from all qualified applications. To facilitate this process, we ask all applicants to provide information documenting their background, expertise, and motivation for taking this course.
The organizers will evaluate all applications based on the submitted material. We are particularly interested in understanding your motivation for attending this summer school; how it would impact your career and how external referees judge your potential to meet those career goals. In order to ensure that everyone benefits as much as possible from this summer school, we will also take the appropriateness of your educational background into account. The selection of participants will therefore be based upon how much they would benefit from this training opportunity. Applicants will be notified by email whether or not they have been accepted. Applicants that have not been accepted will be placed on a waiting list in case of cancellations.
Housing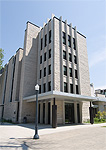 Affordable housing will be available at good rates (approx. $50 / night) to all participants of the summer school. Room reservations have been made in
Leggett Hall
. After acceptance to the summer school, participants receive instructions for accommodation arrangements.
Accommodations are single rooms within 2-bedroom units in air-controlled Leggett Hall. Each room has one double bed, an alarm clock, 1 desk, 1 chair, free Ethernet connection (must provide own cables) and telephone for free local calls. Bed linens (basic pillows), towels and soap are supplied. Please bring hair dryers, favourite pillow if desired, and personal toiletries. The building offers comfortable common rooms throughout the building that can be used for socializing or for meetings. Laundry facilities are available and are located on the main floor. The one bathroom is shared by the two adjoining bedrooms and has privacy locks.
Travel to Kingston
Kingston
is a historic town half-way in between Toronto and Montreal and is acessible by car, train, bus and air. For more travel details, please refer to this
web site
.
Kingston provides numerous
outdoors activities
and
historic sites
. The most popular outdoors activities include canoeing, hiking, biking and boating. Don't miss the UNESCO World Heritage designated Fort Henry, the world famous UNESCO classified
1000 Islands
as well as the world heritage
Rideau Canal
. For your entertainment, downtown Kingston (10 min walking distance from Queen's campus) provides many restaurants, pubs, night clubs and stores.
Payment & Receipts
After acceptance of participation in the summer school, attendants are requested to register and pay the registration and accommodation (if needed) fees. Details will be communicated in the acceptance email.
Cancellation policy
Cancellation will result in a partial refund of the registration fees and a full refund of the accommodation fees if 1) the participant can be replaced by an applicant on the waiting list and 2) this occurs up to one month prior to the event. In this case $50 will be retained as administrative fees. Otherwise, no refund of the registration fees will be granted and accommodation fees will be partially reimbursed.